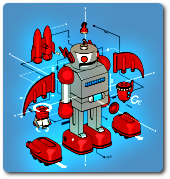 Seems like this is going to be my Year of Mozilla :-D
I was in Bruxelles for FOSDEM09, where I took part to a series of workshops on the Mozilla platform and to an intense debate among European XUL communities organized by
Paul Rouget
...
I had the opportunity to include JavaScript, DOM Scripting, JavaScript Frameworks (jQuery and ExtJS) and
Mozilla Extension Development
in a local Master Course...
... And negotiations are well underway for a 50-hour course on "JavaScript, the Open Web and Firefox as Development Tool" in a secondary school.
... and now?
Now it's time for
the first Italian MAOW
(Mozilla Add Ons Workshop) in Florence!!!
This month, in the afternoon of Saturday 27th, thanks to
Mozilla Europe
,
Mozilla Italia
and the
XULit community
(of which I'm part), there will be four hours packed with content and hand-on activity for aspiring Firefox Developers. Have a look at the
MAOW agenda
.
We hope this will be a way for other young developers in Italy to approach this powerful platform and community effortlessly, and that it will be just the first of a series of Italian Mozilla Hacking days.
Oh, and remember to
register
, so we can make sure everybody has a comfortable seat. ;) We're looking forward to seeing you in Florence!